We are now scheduling for Spring 2023 house washing and roof cleaning! Our loyal and happy customers always call early every year because they know our schedule fills up quick!! Call now for the best dates of the season! For over 25 years, we have been providing New Hampshire homes and businesses with the best quality and dependable power washing services including house washing, roof cleaning, algae removal, deck and fence cleaning, patio cleaning, and more!  We look forward to serving you in this new year! Contact us today at (603)465-9473.  When you want the job done right, call GSPW for professional and friendly service.  The difference is unmistakable!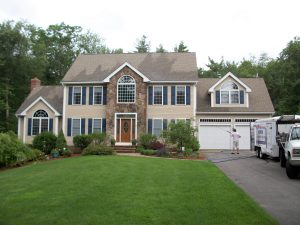 The leaves have fallen and now is the perfect time to rid those gutters of debris before snow and ice dam season arrives. Call us TODAY for your fall house and/or roof cleaning and we can get those leaf filled gutters cleaned out so you can have your home sparkling clean and ready for holiday entertaining and prepared for the winter chill.
When choosing the service providers who will care for our homes… research, local history, and word of mouth has become even more important in today's cyber focused environment.
Our non pressure roof cleaning continues to be the safest process for cleaning and removing mildew and lichen from roof shingles and the results are noticeably longer lasting. We do not use high pressure that strips away at the shingle or gimmick products that are not as effective or safe as marketed. We guarantee our roof cleaning services and have been in business long enough to stand by it.
While we encourage the service and market of roof cleaning, we are disappointed by some of the marketing of some newly formed roof cleaning companies in our region. Online paid advertising, reviews, and home service broker memberships are exactly that…paid for. We've been offering and providing low pressure, non pressure soft washing and roof cleaning throughout New Hampshire for over 15 years and are BBB Accredited with an A+ rating.
Granite State Pressure Washing is time tested and we perform "as advertised", operating our business with the golden rule work ethic of honesty and fairness, and treating our customers as we would expect to be treated…always
After the long, cold, and snowy winter, it looks like Spring has finally arrived. We are absolutely thrilled to be able to begin clearing out and cleaning up both inside and out.
We are excited to be clearing out those winter hats, boots and gloves and finally be cleaning up the woodstove mess once and for all this season! And we are just as giddy to be losing the blanket of snow that's been covering our yard as we begin to get a glimpse of our decks and patio again. And so the cleanup begins… with all of the old flower pots and fall mums that seem to have miraculously spread and now litter the yard.
It's a fresh start to the season and refreshing to the spirit to be spring cleaning and thinking about getting the house and roof cleaned up. And it's the perfect opportunity to have the decks and patios washed up and fully ready to take advantage of some MUCH needed outdoor time with friends and family.
Call us today and we can take care of all the exterior cleaning so you can have your home in tip top shape in no time. After 20 years in the business, we know a little bit about cleaning. And we know what it takes to get it cleaner and make it last. We not only get the job done… but we get it done right. No hassle, no stress and with better results. Remember to look for our spring specials and coupons to save on your next wash. And Happy Spring!
We can rid your gutters of leaves and debris before the winter weather and ice dam season arrives. We are offering gutter cleaning specials now and throughout the fall season. Call us now to book for your fall house wash or roof cleaning and don't forget to ask for our gutter clean out specials!
Entering our 20th year! It's hard to believe so many years have passed since we started this business. Most people we spoke with at that time didn't realize what "pressure washing" was and house washing just wasn't all that common in this area. We would explain what basic pressure washing was never mind soft washing vs. hot water vs. steam vs. stain causes, solutions, etc… Now, we only have to explain it to the sudden "professionals" that pop up year to year. 😉
We've grown and expanded services and service areas but we're proud that we have never sacrificed our commitment to remaining leaders in the industry and to providing the absolute best quality service possible to the volume of long term and loyal customers that we serve. We're proud of the relationships we have with our customers who appreciate best quality, no hassle, and most importantly, longer lasting service and are already taking calls from knowing customers who want to get their houses on the Spring schedule!
While generally, power washing is not typically needed as an emergency next day service as with a plumber for instance, we realize that sometimes it is wanted somewhat quickly for entertaining and/or home sale reasons. We are very excited this year to offering faster response times and shorter wait times for scheduling.
Looking forward to another great year!
Happy New Year 2012!! As we eagerly look forward to another successful year providing the best exterior cleaning and power washing services possible to all of our customers in New Hampshire and Massachusetts, we also reflect on this past year and are thankful for the continuing loyalty and trust our customers have placed in us. As a small business, we understand that surviving in today's economy is not easy. It means never taking our customers for granted. We operate our business simply… with the principles of "treating you the way we would want to be treated". This is why for almost two decades, we have offered fair, consistent pricing for a professional, necessary and convenient service. Our prices do not rise with every new tax, fuel or surcharge we must absorb. And our prices do not fall with every low price that may be offered by inexperienced or inferior service providers. Instead, we continuously search for ways to provide our ever increasing customer base the absolute best service and consistently, fair prices. Thank you again for counting on us for so many years for no nonsense, no hassle, simply great service.
With school back in session, and the closing of pools…we are forced to realize that summer is over. And for us at GSPW, after 18 years…it's official. The summers really do get shorter every year.
With our own fall projects and maintenance still to attend to, we spend a lot of time preparing for the busy fall cleaning season. And we want to let our customers know that we're here to help lighten your load with fall home maintenance plans. Some like to say that those of us that wait until fall to take care of our home maintenance projects are procrastinating. We say… you're wrong. We are simply getting a head start on next year!
At any rate, just like springtime, we are looking forward to this busy time of year when cleaning homes and roofs is a necessary and routine preparation for the winter. Since it not only makes the home look better for maximizing home values and entertaining, but importantly, removing the mildew also helps extend the life of the siding and roofing surfaces before it is buried (and protected) by the heavy snows of winter.
But the fall season also brings the dreaded time that we have to close our pools and so we're busily cleaning outdoor items and pool patios as well as fixing all of those botched pool patio cleaning jobs (DIYers and lowest price shoppers… you know what we're talking about!)
So while we take care of our own fall maintenance projects, we're also ready to help you take care of yours with the great rates, best quality and the best service we're known for! Give us a call to book your fall cleaning!
We want to start this season off right by saying thank you to all of our past customers over the last 18 years for their loyalty, continued business and referrals. We are both humbled and proud that we have never had to ask for your referrals and that in itself is what has made them so valuable… and appreciated. Your honest and regular referrals have kept our business ahead of the pack and brought us to where we are today. So again…thank you. We appreciate the trust you have placed in us all these years. And we look forward to meeting all of our new customers in the next 18 years. After this long winter, we are excited for the 2011 Spring season! We are looking forward to again providing the unmistakable difference in professional house washing, deck washing, roof cleaning, and all of your power washing services ….. No One Gets It Cleaner!
We are so glad to have our newly re-designed website up and running. Check back here often for more information on our latest projects! We look forward to providing more information on our services with interactive customer contact forms for quotations and general info. You can count on Granite State Pressure Washing for the best service and the best results. We offer professional power washing and low pressure soft house washing in Hollis, Amherst, Nashua, Mont Vernon, Milford, Merrimack, Bedford, Hudson, Litchfield, Salem, Windham, Pelham, and other New Hampshire NH areas as well as Groton, Pepperell, Ayer, Dunstable, Westford, Townsend and other Massachusetts areas.